Howdy, folks!
The Usual
My pile of "life admin" feels like it's reached an almost overwhelming level these past few weeks – I won't bore you with the detail, but I've got far too many bits of paperwork to sign, far too many money things to juggle and far too much anxiety over it all. Just need to keep on chugging!

That aside, I also have a rather nice ANNOUNCEMENT to make: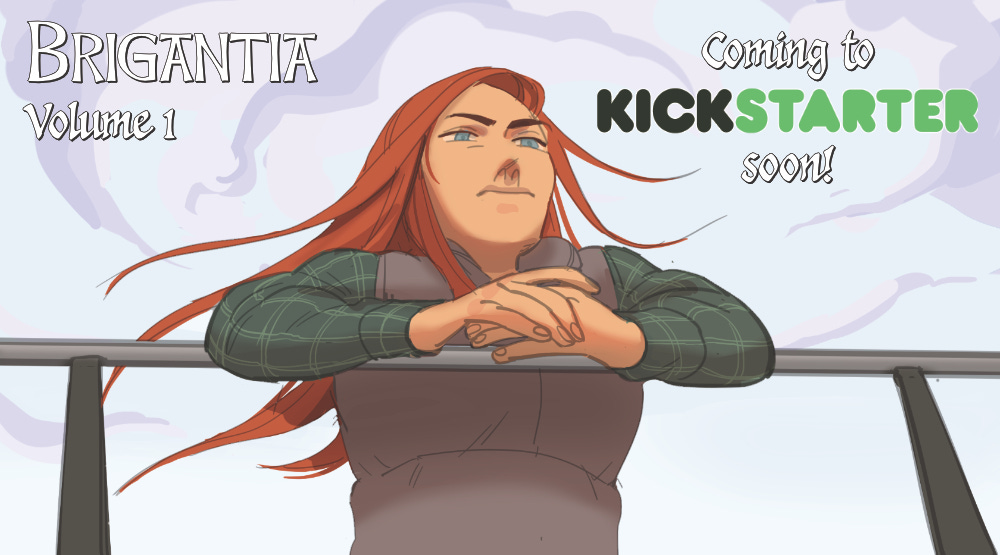 Brigantia Vol. 1 is coming your way in June (exact date TBD!) Collecting issues #1, #2 and the new issue #3 as a chunky 128-page graphic novel stuffed with bonus content!

I've been pushing the boat out for this to try and make it into something special – here's the murderer's row of talent who'll be getting involved:
Issue #3 art by Harriet Moulton and letters by Hassan Otsmane-Elhaou!
Pin-ups by Chris Wildgoose, Will Kirkby, Rosie Packwood & Elijah Johnson/JP Jordan!
An exclusive limited edition bookplate by co-creator Melissa Trender!
Foreword by Nimue Brown (Hopeless, Maine and tons of books on druidry/paganism)!

Those pin-ups will also be available as reward prints on the campaign, so you can pledge for as many as you like – it's so exciting seeing other artists' takes on Brigantia and the rest of the cast, and I'm thrilled to properly share them! We'll be running some Early Bird tiers as well – ideally, I wanted the option to send you folks (and people who've previously bought copies of Brigantia #1 or #2) a discount code so you could get hold of the collected volume at a cheaper price, but Kickstarter doesn't have that functionality and if I set up a specific tier for previous Brigantia backers I'd have no good way of stopping all and sundry from taking advantage of it.

The alternative, then, is that you'll all find out exactly when the campaign launches well ahead of the wider world, and armed with that knowledge you'll hopefully be able to snap up the Early Bird rewards for a discounted copy of the book. I've really been agonising about this – I know a lot of people are happy to buy single issues of an ongoing comic and then buy the trade as well, but I feel a bit bad trying to get people to buy the same issues again (in a different format!) The reason I'm jumping straight to a trade now is because it feels to me like there's a diminishing market for indie single issues on Kickstarter (unless you're a big moneybags publisher who can already afford to make the comic and just want to use KS for a soft launch, but I digress…), and there's a solid midpoint in the story which feels like a great "end of volume 1" cliffhanger to me. Plus, purely for selfish reasons – I'd love to have a collected trade of one of my stories! If any of you have questions about the decision to go straight to a trade please do fire them my way, I'm happy to try and answer them.

Anyway, to break up all that text, here's a very sneaky peek at one of Harriet's costume designs for issue #3, fresh out of the oven:
The Record
*Pitches for two anthologies worked on – one submitted

Very little actual scripting this month, due to the aforementioned towering pile – it's been a pitches month! I've put something together with Rosie Packwood for the second volume of the Big Hype Comics anthology which I'm excited about, and working on another one with Jamie Keys for a different anthology. I'd love to try and improve my "hit rate" for anthologies – I've been rejected for a lot of the ones I've gone for recently, and it always batters my self-confidence, so it'd be nice to get into either of these.

The other projects on my list are very much on hold until I can wrestle my way back on top of life! Watch this space, I guess?
The Tunes
My tracklisting this month was arranged purely for aesthetic reasons and I'm not sorry – short song titles at the start, long song titles in the middle and short at the end so it's a nice sharp bell curve!

We start off with a new track by KAUAN, one of my best Spotify finds – gentle, icy and spacious. After that it's the opener of my favourite band's newest album – Triassic by The Ocean. They did a pre-recorded performance of this album at the Roadburn Redux festival earlier this month which was absolutely transcendent – I just can't say enough good things about this band! Age of Aquarius by Villagers of Ioannina City (what a band name!) is another Spotify find – great proggy metal with some neat riffs. Alien Lip Reading by Hail Spirit Noir makes great use of what sounds like a theremin amongst the black metal shrieks. IOTUNN were recommended by a friend and I'm digging them – cosmic-sounding death metal, yes please. Godspeed! You Black Emperor are a band that I've never invested time in, despite knowing a lot of people who are into them – I enjoyed their newest album, so looking forward to diving into the rest of their discography. The Picturebooks did a collaboration with Neil Fallon of Clutch recently, which is how I found them – this is just good old-fashioned blues rock. Mindforce play no-frills thrash metal, and sometimes that's just what the doctor ordered! Kvelertak are another band I've never really put time into, but this is fun – reminds me a little of Volbeat. And lastly, reversing the upbeat tone completely is Body Void – grimy, heavy doom metal which sounds like dying. Please enjoy 😎
The Links
New section this month – here are some Kickstarter campaigns you should check out and some articles I've enjoyed:
Alex Automatic Vol. 1: https://www.kickstarter.com/projects/frasercampbell/alex-automatic-volume-one-trade-paperback
Lad (Issue #3): https://www.kickstarter.com/projects/umar-ditta/lad-the-homecoming-issue-3
Ancient Egyptian discoveries: https://www.independent.co.uk/news/science/archaeology/archaeology-discovery-saqqara-ancient-egypt-b1835760.html?amp
Thoughts on comics criticism by Ritesh Babu: https://comfortfoodcomics.com/2021/04/08/the-trouble-with-easy-criticism-by-ritesh-babu/

That's all for now – I'll sign off before this gets any longer. Thanks for reading, and keep your eyes peeled for more on Brigantia Vol. 1!

All the best,
Chris