It's been a long time since my last post! 2019 was a… difficult year, to say the least. On a personal level, I went from dizzying heights of happiness to some of the most tumultuous upheaval I've had, and I'm still recovering from emotional shocks that the latter half of the year delivered. On a political level… well. I'm not going to spend any more time on that, but suffice it to say that we're in for an absolutely hellish 2020 on that front.
I'm going to blather on for a little bit about the professional level; 2019 was the year when I decided to just go for it, and set a few projects in motion. At the very end of 2018, after a trip with friends to go and see the excellent Zeal & Ardor (Spotify embed below, absolutely fantastic band) in Leeds, I decided to do something with a project that had been sitting on my hard drive for ages in a half-finished state. That project was THE BLACK RUBRIC, a light-hearted, comedic story about a black metal band who accidentally write a song that's too Satanic and rip open the gates of hell by mistake.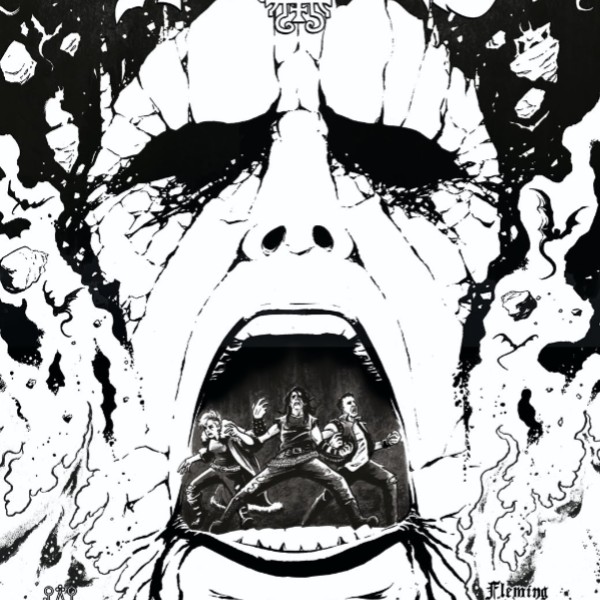 I decided to stop procrastinating and just finish the story and get it made; that created a tiny snowball effect with some other projects, and it's resulted in probably my most productive year of writing yet. I counted the pages on Twitter a little while ago, and I wrote 120 pages in 2019 – including THE BLACK RUBRIC, my next project HOCKEYTOWN (which was conceived, developed and all-but completed on the writing side within a year- honestly pretty impressive given my tendency to be crap at finishing scripts) and a sci-fi story I've been working on with the in-progress title SPACE COWBOYS.
So yes – 2019 was a productive year. It did also see some upheaval, most notably with my fantastic creative collaborator Melissa Trender being unable to continue with BRIGANTIA and us needing to find a new artist to pick up the torch from her. It's obviously a shame not to get to continue the story that Mel and I created with her on art duties, but I completely respect her decision to step back from the project and she's currently kicking arse in her new career as an apprenticed tattoo artist. She actually tattooed me in October with a design intended to represent the Fire of Awen, a pagan concept that will come into play in future issues of BRIGANTIA – it was very appropriate to have Mel design and tattoo that piece on me! Her successor Harriet Moulton is a fantastic artist, and we're both overjoyed with how seamlessly she's stepped into the role – Harriet's working on issue #2 at the moment, so that'll be out this year.
Anyway, onwards and upwards for 2020. The goals this year are to Kickstart and release both THE BLACK RUBRIC and issue #2 of BRIGANTIA, as well as to develop and pitch HOCKEYTOWN to a few places. I'm very proud of the story, and it's my first time working with an actual editor (Hugo Boylan, most recently the editor on the acclaimed LAD by Umar Ditta); we're both invested in the project and I think it's unique enough to hopefully find a home at a publisher.
The world is a cacophonous, horrible place at the moment, so I for one take great solace from retreating into my creative cocoon and only popping my head out when I'm able. Take care of yourselves, everybody – we're only 11 days in, and already the US has flirted with a large-scale middle-Eastern war and Australia has suffered absolutely catastrophic fire damage and loss of animal life. Donate to Wildlife Victoria if you can and let's all do our best!