Hey folks,
It's (somehow) almost December as this extremely odd and taxing year draws to a close, and I've somehow managed to do an update every month – giving myself a pat on the back for that! Tuck in:
The Usual
It's been a pretty eventful month, despite the lockdown! Midway through November was Thought Bubble, which despite being digital-only was still a blast – I'm not naturally comfortable with the kind of online presence that's required to fully participate in digital cons, but despite the weirdness of being sat in my little studio for the majority of the weekend it definitely managed to capture some of the Thought Bubble vibe. I had a great chat with Harriet (the artist on Brigantia) on the Sunday which you can check out at https://www.twitch.tv/videos/802879033 if you fancy learning a bit more about issue #2 and our plans for #3 and beyond, and the party on Saturday night was a lot of fun and executed brilliantly by partymeister Kieron Gillen – it was EXTREMELY 2020, with a muted Zoom meeting linking up with a shared Spotify playlist so we could all boogie to the same tunes, see each other's faces and chat away in text, but it damn well worked.
Winter is (despite the cold) probably my favourite season – there's something very pleasing about crisp, cold, sunlit mornings and the prospect of snow/frost. I'm less fond of the torrential rain that we often get in the UK and the shortened days, but it's easier to warm up (cosy jumpers, putting the fire on) than it is to cool down during a hot, sticky summer which helps me cope. Even if I'm not one of those people who gets EXTREMELY EXCITED about Christmas (I'm holding off any decorations until tomorrow, December 1st, because… come on, people), I do enjoy getting a chance to relax and I have the privilege of some extended time off at the end of the year. This year, I'll be able to finish my day job on the 22nd and not log back in until the 4th of January – truly delightful!
The Record
*All 68 pages outlined for SENGOKU, a Japanese history/samurai project that I have in the pipeline and will get to when I have the time!
*Issues #4 – #6 of BRIGANTIA outlined – I had a structure but needed to revisit that after making some changes to issue #3, which was finalised and sent to Harriet a few months back
*Lettering work – 6 pages of the next Professor Elemental project, NEMESIS, lettered
Couple of different things going on this month – I've still been crap at actually sitting down and hammering out scripts, but I've managed to do some good planning work and thinking about the structure of a few stories. SENGOKU is one I'm very excited about – in case it's not clear, I've been a big nerd about Japanese history for YEARS (in 6th Form college, my final history project was a 3000-word thesis on Christian missionary activity in Japan from just before the Edo period to post-Meiji Restoration) and this is my attempt to write a samurai story which takes my youthful love of "cool samurai shit" and tempers it with a more critical look at bushido and the weight of familial expectation. There's a Japanese proverb, "the nail that sticks up gets hammered down", which is often interpreted as a ruthless insistence on conformity – I want to examine how the desire to "stick up" and craft your own path would manifest in a samurai family in the period around and shortly after the Battle of Sekigahara (1600), an extremely unsettled time which shaped Japan for roughly the next 250 years.
Plus, it's an excuse to write extremely deconstructed, widescreen fight scenes inspired by Kurosawa, Takashi Miike and Takahiko Inoue's Vagabond, who wouldn't want to do that? 😂
This month's "outdoor writing" session took place on top of Mam Tor in the Peak District – it seemed appropriate to hammer out the shape of the second arc of Brigantia while standing on top of the remains of a 3000-year old hill fort most likely constructed by Celtic Britons! My hands were extremely cold by the time I'd finished, but I'm excited about where the story goes in those issues – we'll cover a bunch of cool mythological stuff, and I think (hope) that it'll build the story to a satisfying and epic conclusion.
I've mentioned the next Professor Elemental project here briefly before – it's being drawn by the excellent Jamie Keys, coloured by the mighty Owen Watts and lettered by yours truly. We're telling the Secret Origin of the Professor's Nemesis – this is the first time we've done a comic tie-in to one of his albums that isn't just a re-telling of the album, and I'm genuinely quite proud of how I was able to take the character prompt from the winner of the Nemesis competition and build that into a compelling and sympathetic villain for the Prof. He's definitely not a one-dimensional bad guy! Here's a sneak peek at one of the WIP pages and Jamie's gorgeous artwork: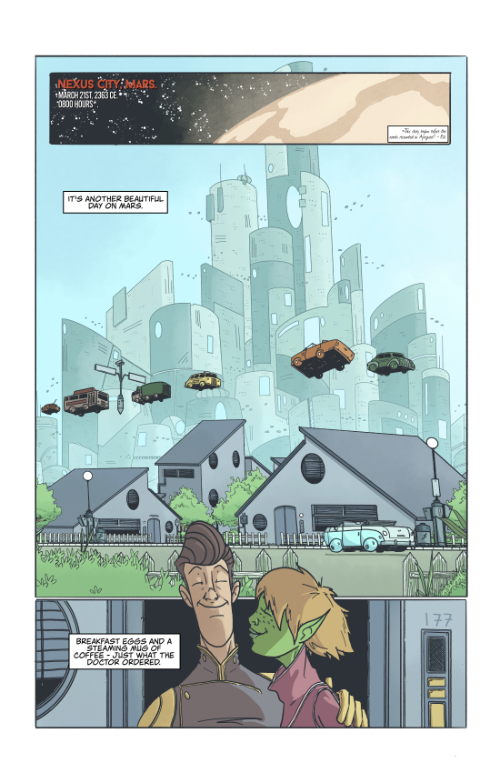 It's a fun little 16-page story, and I'm looking forward to sharing it with people!
The Tunes
This month's playlist swings quite dramatically between tracks I've loved for a while, new material and some lighter, fun ones – I'd apologise for the language on the final track but it doesn't say anything I haven't expressed myself on multiple occasions! First up is the fantastic Agalloch – this song is just a tour-de-force, and if you're not familiar with Agalloch and enjoy it I'd highly recommend checking out the rest of their discography. Next are a couple of discoveries by Mogwai (who I somehow haven't listened to before) and Bibio – both quite contemplative and laid-back. After that we're back into metal territory with the excellent anti-fascist BM band Dawn Ray'd – I'll always appreciate any band who make a point of stating that trans rights are human rights during their live sets, and it's a delight to find a black metal band whose politics I don't have to be wary of. Cairiss are fantastic, and I'm hoping they release more music soon – their lead singer has some of the most controlled and accomplished vocal skills I've ever seen/heard. Tribulation are great, bouncy af doom metal with an ear for a good hook – this is a new track, and I'm excited for the rest of the album. Next is a turn to the utterly ridiculous with Jay Diggs – I blame Dearbhla Kelly since she played this during her Thought Bubble set and I couldn't stop laughing. We then get into "politics territory" with a great track by Wolverine from one of my go-to albums – the song is related to George W. Bush, but I think it can still apply. We follow that up with the triumphant Clutch – this song is an absolute banger, reflects my joy at the result of the recent election and I will always join in at full volume with these lines:
First thing that I'm gonna do is disclose all those U.F.O.S
Put Jimi Hendrix on the 20 dollar bill
And Bill Hicks on a five note
Hot damn! The democratic process
What a time to be alive
Oh, I'm ready to give the people what they want
And what they want is straight talk and no jive!
Last, but by no means least, please enjoy a minute and a half-long song about the current Prime Minister of the UK, an utterly contemptible human being!
And that's all for this month – enjoy the tunes, try and find some time to wind down as we get closer to Christmas (we've already watched Die Hard 2: Die Harder to get into the spirit of things) and take care!
All the best,
Chris