Howdy, folks!

First off: a happy All Hallow's Eve/Samhain to all who observe it! I'll be spending this evening in a spooky ghoul mask playing ceilidh tunes with Powerhouse at a new venue in Sheffield, so that should be fun, as gutted as I am to miss out on the usual tradition of watching a horror movie and welcoming trick or treaters. A few things to cover in this month's edition, so let's crack in:
The Usual
October has been an extremely busy one for me, what with the Lakes Comic Convention (which was a delight, albeit somewhat soggy and cold – one particular highlight was a Saturday night gig in a scratch covers band with Michael Lark, Shane Chebsey, Nick Rossert of Sloth Comics, my pal Tom Ward and Charlie Adlard on drums) and then two weekends of touring up and down the country with Ba'al. It's also primarily been a month where I've been trying to drum up interest and hype for my next comics endeavour, SECRETS OF THE MAJESTIC. I've mentioned it in here before, but I've now announced all the creative teams and pin-up artists over on social media (Twitter/Bluesky) and we have a truly stacked line-up:

Kieron Gillen | Benjamin AE Filby | Tula Lotay | Laura Jones | Dave Cook | Laura Helsby | JP Jordan | Rik Worth | Jordan Collver | Owen Watts | Gavin Mitchell | Adlai McCook | Asa Wheatley | Sammy Ward | Rob Jones | Sam Chase | Paul Carroll | Lane Lloyd | Chris Wildgoose | Gary Moloney | Colin Craker | Aaron Thompson | Dan Bell | Aaron Eamer | David Cousens | Fraser Campbell | Craig Munro | Rob Luckett | James Lawrence | Ria Grix | Rob Burton | Sarah Peploe | George Joy | Mark Granger | Liam 'Pais' Hill | Umar Ditta | Paul Tonner | Matt Hardy | Jon Scott | Erika Price | Matt Simmons | Liana Kangas

Goddamn, right? What a group of established names and emerging creators. I'm thrilled to see what they come up with, now we just need to raise the funds so I can pay them and print the book!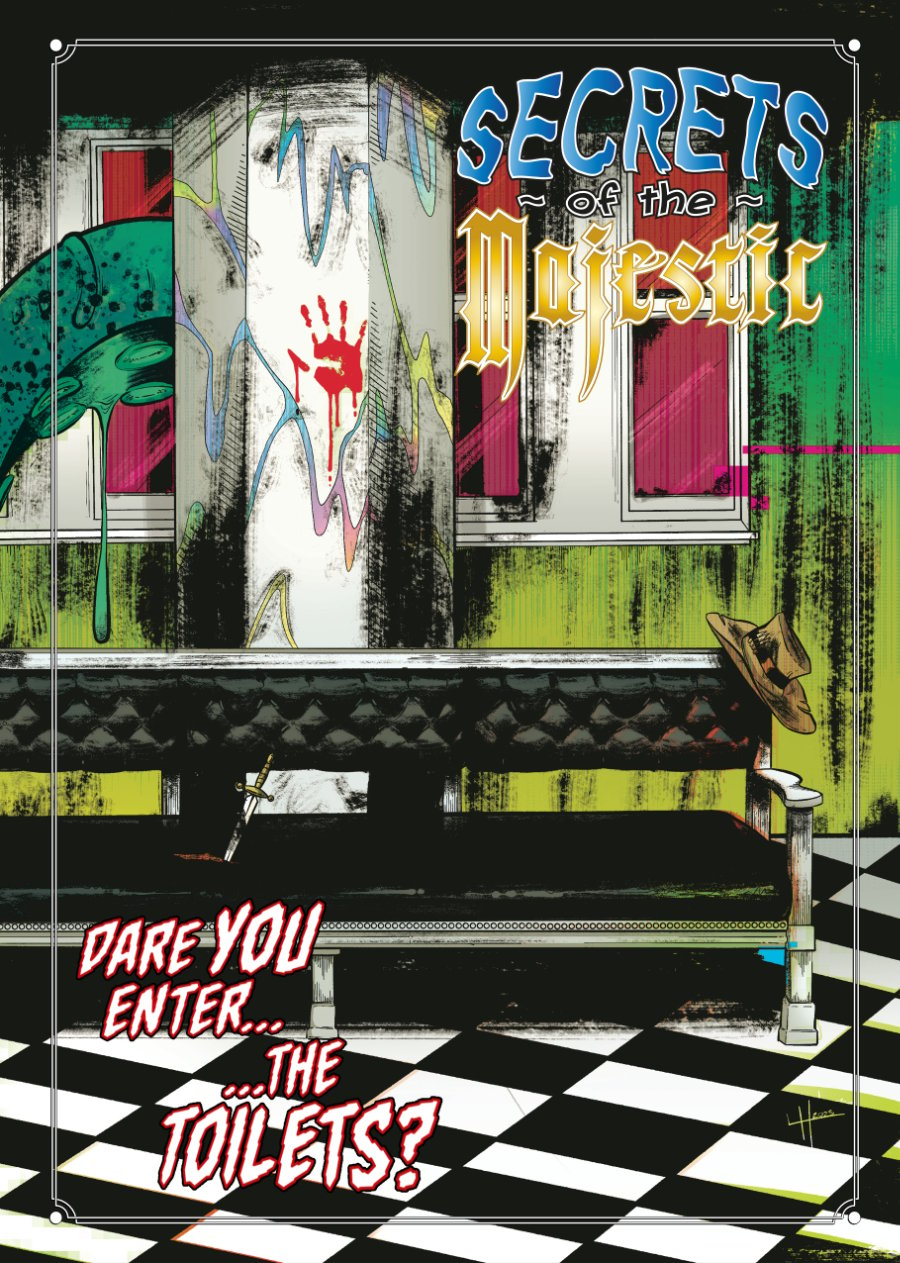 The Kickstarter page is here: https://www.kickstarter.com/projects/chrismole/secrets-of-the-majestic-anthology

We'll be launching tomorrow, on November 1st! Please do hit the notify button, check it out, tell your friends – I firmly believe it'll be a fun book of stupid toilet comics and well worth your time.

Oh god, I haven't mentally prepared for the Kickstarter campaign stress 😬 I will probably be a hollow husk of a man by the time December 1st rolls around, especially if we're struggling to reach the goal…
The Record
3 pages written for an anthology short
8 pages lettered for The Phoenix

I had hopes of doing more writing this month, but it's amazing how much being on tour demands your attention – even with various very long car rides to and from Scotland I didn't have the spare brain capacity to sit down and work on anything. On the plus side, no notes back for the anthology short so that's all good to go. Next month can be a writing month – I have the final act of SENGOKU planned out (and came up with what I think is quite a neat way to dovetail the two strands of the plot together, wrong-footing the reader slightly in the progress) so I just need to knuckle down and finish the first draft.
The Tunes
It is (as ever) a mixed bag of tunes this month, with a slight bias towards some of the bands we played with on tour. Kicking things off is some ultra soothing piano in this Ghibli cover from Spirited Away – perfect relaxation music if you've had a stressful day. Surprising nobody (given my well-publicised love of Taylor Swift), next up is the new version of Blank Space. 1989 was the first album of hers I listened to and it remains (IMO) her best, so you'd better believe I'll have Taylor's Version of it on loop the next few weeks..! It wouldn't be an October playlist without some spooky tunes, so here's master of horror John Carpenter with one of his synthwave tracks – he's done a few albums of these and they're all highly recommended! Hail Spirit Noir are next with their own disco/synth/theremin groove (which sounds very little like their previous album, but I'm here for it) and then we're into a real 90s nostalgia blast with Fatboy Slim. You can thank an episode of Derry Girls for getting this song stuck in my brain this month..! Myrkur marks our turning point into metal territory – this is from her new album, which is great, but not as strong (for me) as the masterpiece that was Folkesange. Sulphur Aeon are a recent discovery but this album slaps – big cosmic death metal with a lot of interesting atmosphere. Defod opened for Ba'al at our show in Liverpool, and I was very impressed with their sound – hints of Saor, classic Dissection and Primordial but a unique mix. Hopefully we can share a stage again at some point! This Borknagar track from their latest album is an absolute earworm which was in my head for the entire drive up north (see what I did there..!) And lastly is a track from Ofnus, our Welsh touring partners and possibly the nicest atmospheric black metal band you'll ever meet. They made the whole tour a delight (and they write excellent tunes as well!)
The Links
I'm just going to drop the one link this month, alongside my hopes for a ceasefire and for cooler heads to prevail. I don't feel at all qualified to discuss the complex geopolitics of the Middle East but I know that what's happening right now is truly horrific.

https://petition.parliament.uk/petitions/648292

—

Sorry for ending this month's entry on a bit of a downer, but I wouldn't feel comfortable ignoring the situation outright! Thanks for reading, please check out the Kickstarter tomorrow and pledge if you're able and have a happy (and safe) Halloween.

All the best,
Chris